Fritzi, ein Hundemädel aus Sri Lanka – Teil 4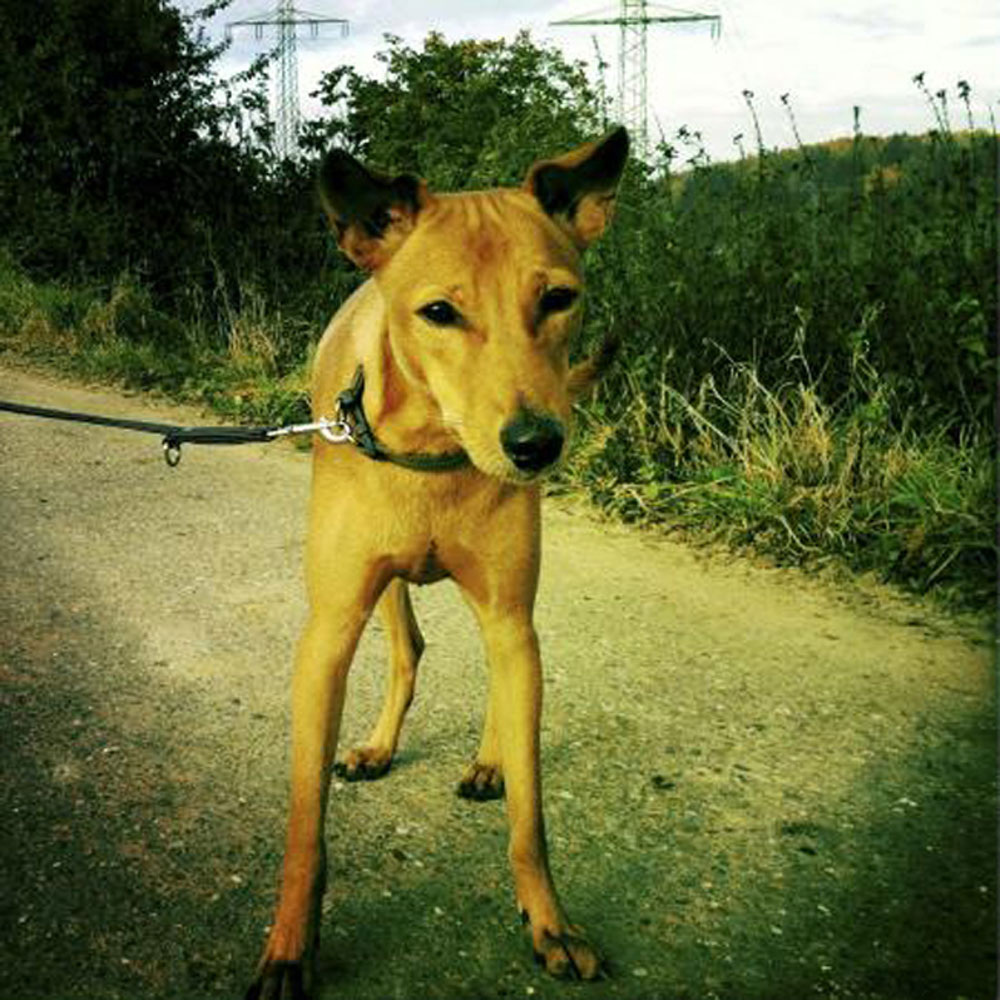 Der kleine Straßenhund aus Sri Lanka hat tatsächlich die große Reise um die halbe Welt gemacht und noch immer scheint es seltsam, dass sie wirklich bei uns ist.
Bis zum wirklich letzten Moment war unsicher, ob tatsächlich alles klappen würde. Die Behörden fordern viel, manchmal unmögliches, oft auch sehr unsinniges. Am Ende waren alle erforderlichen Papiere da. Wir haben alle Pfoten gedrückt und uns sämtliche Beine ausgerissen, um an sämtliche erforderlichen Papiere zu kommen. Seltsam scheint bei alldem nur, dass am Frankfurter Flughafen bei Fritzi's Ankunft niemand nichtmal einen klitzekleinen Blick auf Impfnachweise, Gesundheitsbescheinigungen oder amtliche Beglaubigungen werfen will. Alles ist ganz einfach. Keine Fragen, keine Kontrolle. Wir gehen rein, nehmen Fritzi und gehen wieder raus – ganz ohne Kontrolle. Und wundern uns nur noch …
Ashwini von Haven Dogs, die sich die letzten Monate rührend um sie gekümmert hat, ist mitgekommen und mehr als erleichtert, dass es der Kleinen nach dem langen Flug gut geht. Fritzi selbst ist überglücklich, endlich aus dem engen Käfig herauszukommen, in dem sie die letzten Stunden gesteckt hat. Hier ist ihre Geschichte, wie sie Ashwini erzählt …
A journey of a thousand miles begins with one step

And that step was taken when two German ladies saw me. If you have been reading this blog, then you probably know a little bit about me, but if you don't then I will tell you now, my name is Fritzi, and I am a dog. Not just any dog, but a dog that was born by way of circumstance, on the streets of Sri Lanka. Sri Lanka is known for its civil war, for its beautiful beaches and for its hospitable people. But a story that you do not often hear is one of the street dog in Sri Lanka.

There are one million dogs like me in my country. One million souls searching for love. One million souls for which finding food every day is a struggle. One million of us suffer from disease, from hardship and eventually heartbreak. So few of us will make it into old age, so few of us will lead happy lives. And above all, so few of us will find someone who will love us for who we are. Who will be able to look beyond our appearance. To look beyond our emaciated frames, our timid personalities, and who see what could be.
I am literally one in a million. I cannot put into words how fortunate I am to have found two people who felt in a way that was beyond reason or understanding that I was meant for greater things than a life on the street. That I was meant to be loved.

The journey that brought me here was in no way easy, for me or for the people that brought me here. You must remember that I am a street dog. My kind are shunned and we are sometimes beaten. We know only what we have learned we must do in order to survive. We don't know how to live in a house. We must fight for our food, we must protect ourselves. And when we are not puppies like I was, teaching us things is sometimes hard. I had to learn to live in a house. To make my toilet outside. I had to learn to stay in a kennel, when every instinct I had was telling me to run. I had to learn to walk on a leash. But one thing I never had to learn was to accept people. I may not have always met the best of people but somehow I knew, somewhere deep inside me, that people would ultimately be my saviours. And now as I am sitting curled up in a bed in Germany, many many miles from home, I know that I was not wrong to have thought that.

I know that getting the papers to come here was difficult. I know that everyone around me worked so hard to get me here. I did not understand why I had to be put in a box and then on a plane for ten hours without anyone to tell me what was going on. But now I know that everything was for the best- if it meant that I was to have the best life that a dog can have, then it must be for the best.

You may not be able to learn much from me, but there is one thing you cannot ignore when you hear my story. That is the lesson of faith. My faith let me trust, when I had been treated cruelly before. And my owner's faith, their unending, infallible faith, led me to my forever home. If you meet someone who has hurt you, then do as I have and don't lose faith in the entire human race. And always have love to give in your heart, for it is that willingness to love that eventually gave me the life I deserve,

The street dogs are one less of one million. I was lucky enough to be healthy to fly, but not everyone is. I think of my brothers and sisters back home and I pray that they may have the life that I now do. A life where I can have all the food that I can eat. Where I look into the eyes of my owners, and all I see is acceptance and love. A life where if I cry, someone listens, and if I am happy someone cares. A life where if I am sick, someone will take care of me. I don't know what I did to earn this life, except for being me. But I will thank whatever gods there may be that I am the dog I am, in the place I am today.

And this is the greatest lesson any dog or person can learn. To love the life you have been given, and to never, ever lose your faith.